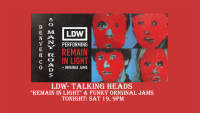 LDW- Talking Heads "REMAIN IN LIGHT" & Funky Original Jams
Time: 9:00pm Day: Saturday Doors: 8:00pm Ages: All Ages Price: $15
This Event Has Ended
LDW is an eclectic band with a love of Talking Heads. They play Talking Heads and Original Music.

LDW
PERFORMS STOP MAKING SENSE
INSPIRED BY TALKING HEADS MUSIC AND THEIR OWN
In the summer of 2013 a group of Portland, Oregon musicians got together around the love of Talking Heads music. Especially that of the epic 1984 concert film, Stop Making Sense, which they consider to be the most brilliant concert film of all time. They began to perform with a 7-piece lineup that was inspired by that particular movie and time period. "There was so much funkiness, movement, and excitement to the music in that movie and we just knew it would get people excited and feel fresh" says Lawrence Orleck, co-founder and singer in the band.

Audiences keep coming back to see LDW. Not only for their exuberant interpretations of the legendary Talking Heads, but also for their original music, improvisation, choreography and the random experiences they deliver at every one of their shows. LDW tours the west Coast and plays premier venues like Crystal Ballroom, Wonder Ballroom, Nectar Lounge, Star Theater, Showbox, Reed College annual alumni show, and a host of Large Festivals.