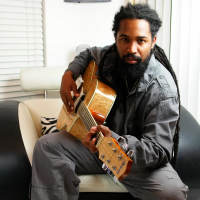 King Hopeton from Black Uhuru
Time: 7:00pm Day: Sunday Doors: 6:00pm Ages: All Ages Price: $15
This Event Has Ended
King Hopeton
King Hopeton (Horace Campbell) was born March 25th on the beautiful island of St Ann, Jamaica West
Indies . He started playing music at the age of 4 after watching an old woman on a piano playing "Come
Back Charlie" a classical piece. After she got up, he sat down and started playing the same piece of
music as though he had played it before. When the lady came back and saw him playing , she
immediately started to teach him and from that day all became history.
His love for music was born in that moment and he has continued playing piano since.
His unique style is directly influenced by Classical music and Reggae roots where his work embodies
elements of Jazz, Rhythm and Blues, Ska, Gospel, Alternative, Rock, Irish and Pop music. In addition to
playing the piano, he also is multi-talented playing the Drums, Acoustic, Electric and Bass Guitar, and the
Organ.
At the age of 7, King , as everyone one now calls him, received his first standing ovation and from all the
love he felt in that moment he decided "It's only music for me". During his teen years King joined the multi
award winning "United Force Band", who received awards from the Jamaican Federation of Musicians as
"best show band" for four consecutive years. He then toured locally and Internationally which increased
his experience in a world of Music and Entertainment.
In 1997, King Hopeton started his solo career as a Singer and Producer. Since that time he has worked
with a myriad of talented names in Reggae music, including, but not limited to: Mykal Rose and Duckie
Simpson (Black Uhuru), Justin Hinds, Everton Blender, Movado, Prezident Brown and Sizzla, Rapture
(gospel) and United Force bands. He has also worked with a number of international groups such as Mei
(Japan), Ragga Z (Germany) Rocker T, Pyrx Band and Dylans Dharma (USA). King Hopeton has worked
with producers such as Steelie and Clevie, Hart Richards and Steven Stanley.
He was also credited by Billboard Magazine in 2009 for producing 12 of 15 rhythm tracks on Little Hero's
number one Billboard Reggae album "Revelation", as well as on various Reggae hits stemming from
Jamaica to the Caribbean.